Other Products
Guillotine Cutters
Our cutters are in labs and production sites across the world. We continue to manufacture the original design with some quality enhancements.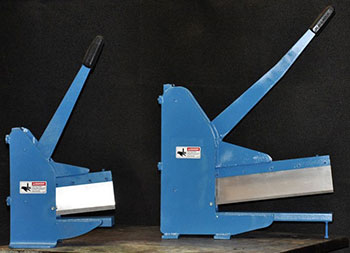 Designed for the easy cutting of cured and uncured rubber up to three inches thick.
Our Guillotine Cutters feature heavy-duty steel and aluminum construction. The blades are manufactured from high carbon steel, and can be re-sharpened as often as necessary. Replacement blades are also available.
Two models available:
Model 600 (6" Blade)
Model 1400 (14" Blade)
Specifications
Model
Height
Width
Depth
Weight
08-103 Model 600 Cutter
14"
7"
11.75"
38 .lbs
08-102 Model 1400 Cutter
18.5"
7"
21"
68 .lbs